Made up of 54 unique and fascinating countries, Africa is the second largest and second most visited continent in the world. Each country is embedded with its own rich cultural traditions, delicious cuisine and magical scenery. With heavy musical influences wherever you go and over 3,000 different tribes speaking over 2,000 different languages, there really is no place like it. Whether you want to visit the souks in Marrakech, go on a safari in Tanzania, or soak up the sun in the Seychelles, you're bound to find something to suit you!
Morocco
The first thing that comes to mind when thinking of this North African gem is the Sahara Desert. Be sure to test your inner adrenaline junkie on a quad biking adventure or a camel ride experience across this iconic location. If you're a sucker for a bargain, put your bartering skills to the test at the famous souks in Marrakech, where you can purchase anything from high quality leather products and handmade crafts to a range of spices and unique home furnishings! Climbing the Atlas Mountains and visiting the historic Berber villages are also among the popular activities to do while in Morocco. Traditional Moroccan cuisine is tagine – named after the earthenware pot in which it is cooked. Moroccan food is a mix of Berber, Arabic and Mediterranean cuisines infused with slight European influences.
Madagascar
No, it isn't just a DreamWorks movie, Madagascar is a beautiful blend of Southeast Asia and Africa, located in the Indian ocean. The focus here is mainly on the wonderful wildlife and exquisite natural surroundings. As the tourist population here is still relatively quiet compared to other parts of Africa, you can expect to find many hidden treasures and untouched destinations. Face your fears and swim with whale sharks in Nosy Be, or visit Croc Farm, where you can be up close and personal with crocodiles, chameleons and many other reptiles. If you prefer to be a little further away from the action, you could always go whale watching in Ile Sainte Marie and snap some great photos. Ankarana National Park is a popular sight for caving, you may also spot some interesting wildlife!
Ghana
Ghana is often described as 'Africa for beginners', this is due to friendliness of locals and the fact that the majority of people here speak English. If you want to step into the midst of the action head straight to Accra – Ghana's capital. Dive straight into Ghana's culture by visiting Makola Market, where you can buy everything from fresh fruit and vegetables to traditional kente fabric, which is a type of silk and cotton made of woven coloured cloth strips. On your travels be sure to grab a bag of bofrot – a sweet doughy snack that is popular in most West African countries. Other traditional Ghanaian cuisine includes kelewele – plantain infused with spices, jollof rice and waakye. Visit the National Museum of Ghana to learn the about the country's vast history, including the Atlantic Slave Trade or the Manhyia Palace Museum to find out all about the famous Ashanti tribe. Kakum National Park is a popular landmark on the southern coast of Ghana. It is known for protecting an area of rainforest, which is home to forest elephants, bongo antelopes and Diana monkey. You can take part in a canopy walk across the park where you can enjoy majestic views of the scenery.
South Africa
South Africa is enriched with deep history, from the transatlantic slave trade and apartheid to the origin of its 11 languages and the icon that is Nelson Mandela! You can't visit South Africa without taking a trip to Cape Town, where you can witness first-hand the beauty of Table Mountain, experience panoramic views that stretch to the glittering Atlantic, and visit botanical gardens and blonde beaches. Johannesburg is also known as the 'place of gold' due its heritage as one of the first places in the world where gold was found. In Sandton you will find the Johannesburg Stock Exchange, boutique hotels and a range of designer shopping malls. If you've always wanted to meet a real life Mufasa and Simba head to the lion and safari park in Broederstroom. The Apartheid Museum is a must-visit landmark in Johannesburg for anyone that has an interest in South African history.
Seychelles
Known for its soft golden beaches and warm turquoise sea, the Seychelles, made up of 115 small islands, is one of the most popular destinations to visit globally. The main island Mahe is the largest and most built up and is home to the Seychelles' only international airport. Visit Beau Vallon beach for a magical view of sunset. Alternatively, get your hiking boots on and head to Seychellois National Park, but not before stopping off in Victoria – the capital of the archipelago – to snap a picture of the 'Little Ben' clock tower, a much smaller replica of London's Big Ben. Curieuse Island and Praslin Island are equally as beautiful as Mahe and offer even more exciting things to do. Curieuse Island is home to the famous giant Aldabra tortoises, they roam freely around the island so be sure to grab a selfie with one if you can! Word has it there is a stunning secret waterfall on the island of Praslin that you must visit, bonus points if you find it! In the Seychelles you will also find the most photographed beach in the world – Anse Source D'Argent. You will have to pay a small fee to enter, however this includes a tour through the old copra factory and vanilla plantation.
Egypt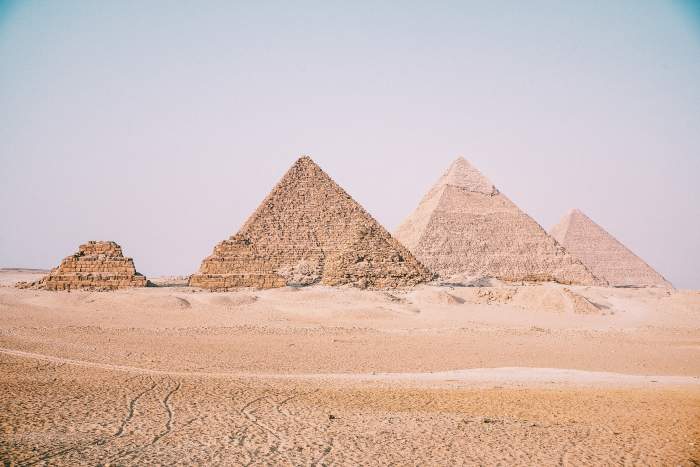 Pyramids, ancient hieroglyphics, tombs and mummies are just some of the amazing things to see in Egypt. One of the first places you should visit is the city of Luxor which is also the world's largest open-air museum. Here you will see all of the well-preserved temples and tombs as well as the Valley of the Kings, where you will find the tomb of Tutankhamun. Jump on a boat excursion and cruise the River Nile from Aswan to the Nubian Village, where you can learn about the cultural history of Nubian people, meet the friendly locals and take in colourful surrounds. You will be able to channel your inner thrill-seeker and snorkel in the Red Sea, dive into the Blue Hole in Dahab or hire a quad and go on a desert tour. Be sure to take a trip to the famous Red Pyramid just outside of Cairo and explore both inside and outside! Please note you will have to purchase a photography pass to enable you to take photos at many sites in Egypt.
Kenya & Tanzania
Kenya and Tanzania are the most famous destinations in the world for an amazing safari experience and for good reason, the wildlife and number of rare breed species in both are fascinatingly extensive. Just six hours outside of Nairobi you will find Masai Mara, the safari to end all safaris due to the huge amount of wildlife you will get to see. There are over two million wildebeest, zebras, leopards, rhinos, lions and elephants to name a few! Visit Mombasa to see UNESCO World Heritage site Fort Jesus and take in its beauty in the form of metre-thick walls, Arabic inscriptions and Swahili decoration. Here you will able to explore the grounds and learn all about the history of this iconic landmark. Arusha in Tanzania is a bustling city with an active party scene, great safaris and beautiful scenery. Tanzania is also home to Mount Kilimanjaro – the highest free-standing mountain in the world and the highest mountain in Africa. To climb Kilimanjaro it takes between six to eight days and plenty of water!
Kenya Flights | Kenya Holidays
Tanzania Flights | Tanzania Holidays
With so much choice and diversity, the golden continent of Africa has something for everyone, so get searching for your perfect African escape now using our tools!