Islamabad – An Overview: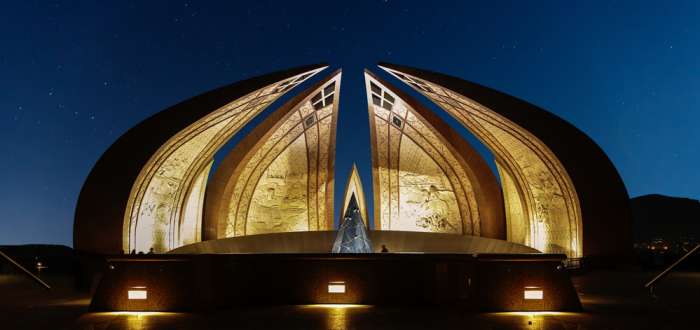 Built to replace Karachi as the Pakistani capital, Islamabad is celebrated for its high living standards, safety and plenty of greenery. Surrounded by verdant hills, this modern metropolis is home to staggering architecture, vast museums, numerous green spaces and luxurious shopping malls, making for a multi-faceted place to visit.
Islamabad experiences a sub-tropical climate, with five distinct seasons, including a monsoon period from July to August. June is the warmest month of the year, with temperatures reaching around 38 degrees, while January is the coolest. The city itself is generally quite mild, thanks to three artificial reservoirs that regulate the climate.
Perfectly situated, Islamabad also acts as a base for numerous day trips or longer excursions, with must-see locations such as Rawalpindi, Taxila, Rawat Fort and the Mankiala Stupa all close by. The city is also close to the Himalayas, so you're never far from adventure.
Fab holidays for:
Fascinating history, outstanding natural landscapes, day trips to nearby places of interest
Airport:
The Islamabad International Airport opened on 3rd May 2018, replacing the previous Benazir Bhutto International Airport. Positioned to the north of Pakistan, it receives long haul flights from London, Beijing, Paris, Toronto and Bangkok.
How to get to Islamabad:
From London Heathrow to Islamabad International Airport, you can expect a non-stop journey time of just over eight hours. At just 20km from the city itself, the airport is conveniently located and equipped with numerous transport links, including the Kashmir Highway and the Islamabad Metrobus. The government is also planning an additional highway to assist with traffic to and from the airport. Uber is available, as are local taxi-hailing apps.
Where to stay in Islamabad:
View this post on Instagram

There are numerous places to stay in Islamabad, from budget accommodation to options at the more luxurious end of the scale. Airbnb also has a presence in the city, offering a more intimate insight into how locals live within the capital itself. The majority of tourists choose to stay in the Blue Area, which sits within the commercial and business hub of Islamabad. Here you can find international hotels, such as the Marriott, Serena Hotel, Islamabad Hotel and Envoy Continental.
Best time to go to Islamabad: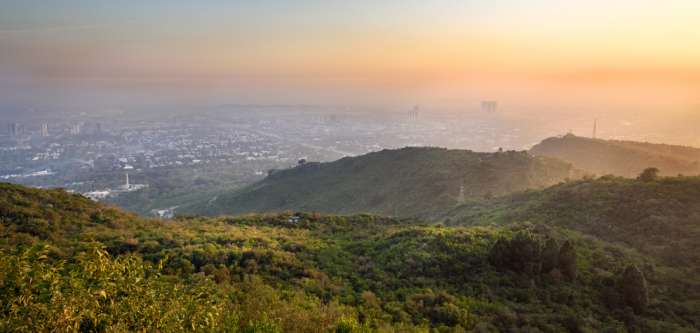 The climate in Islamabad can vary quite dramatically, with highs in the top 30s/low 40s during mid-June and lows of around 10 degrees come January! July and May are also considered to be very hot months, with a significantly higher chance of rainfall. February to early May and mid-October to December are thought to be the best times to visit, thanks to lower temperatures and less chance of rain.
Did you know?:
Islamabad is divided into five zones, with Zone 1 and 2 being the residential sectors. These sectors are then identified by a letter and a number, which are in turn divided into four sub-sectors. Each letter has a specific meaning which denotes what can, in general, be found there: D is for Diplomats, E designates Elites, and so on.
Top 5 Must-Dos in Islamabad: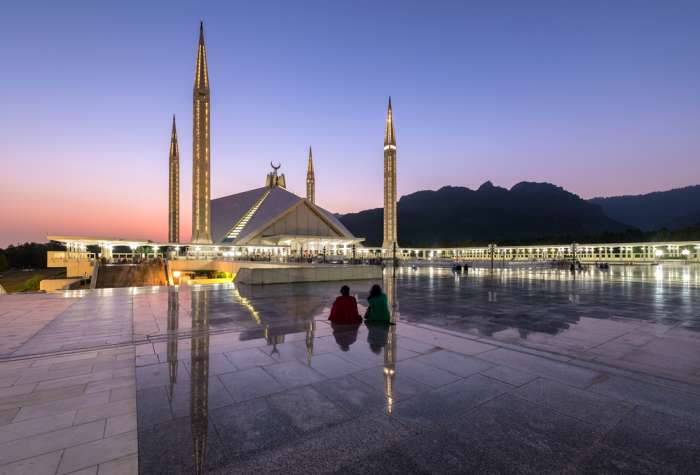 There's so much to do in Islamabad that narrowing down this Top 5 was the hardest thing we've had to do all day. However, after much deliberation, we've decided that these are the must-dos for visitors to the capital:
Faisal Mosque – Large enough to hold 10,000 worshippers and styled in the form of a traditional Bedouin tent, Faisal Mosque has become the symbol of Islamabad. Once the largest mosque in the world, it was a gift from Saudi King Faisal and is estimated to have cost $120 million! Although the impressive structure is a must for tourists, it's also a holy site for Muslims and any visits should be carried out respectfully.
Lok Virsa Museum – The largest of Islamabad's museums, Lok Virsa is home to 25 expansive galleries which tell the story of Pakistan in vibrant fashion. Here, you'll find a range of cultural artefacts and histories, from elaborate costumes, architecture, art, music and Sufi shrines. For those looking to discover more about their destination, you can't go far wrong here!
Paragliding – If you're seeking a little adrenaline on your getaway, ascend the Margalla Hills for a spot of paragliding. Swathed in lush, rich greenery, these slopes are the foothills of the Himalayas themselves, so expect stunning views of both natural and manmade landscapes as you sweep through the air. Run by the Pakistan Adventure Foundation, this experience will give you a greater appreciation for the mesmeric setting of Pakistan's capital.
Khanpur Dam – A short distance out of the city itself lies Khanpur Dam. Famous for its eye-catching blue-green waters, the Dam attracts both native and overseas visitors with thousands making the journey every weekend. As well as hiking, you can also enjoy a plethora of aquatic activities including kayaking and jet skiing. Several Buddhist archaeological sites have been discovered in recent years, which can also be seen close to the Dam itself.
Daman-e-Koh – Positioned in the hills above sub-sector E6, this romantic viewpoint provides sweeping vistas of the city – especially on a clear night or day. A typically green spot, it's regularly dressed in bright flowers for an extra special atmosphere. Nearby, you can find renowned restaurants, live music venues, hiking trails and plenty of places to sit and admire the view.