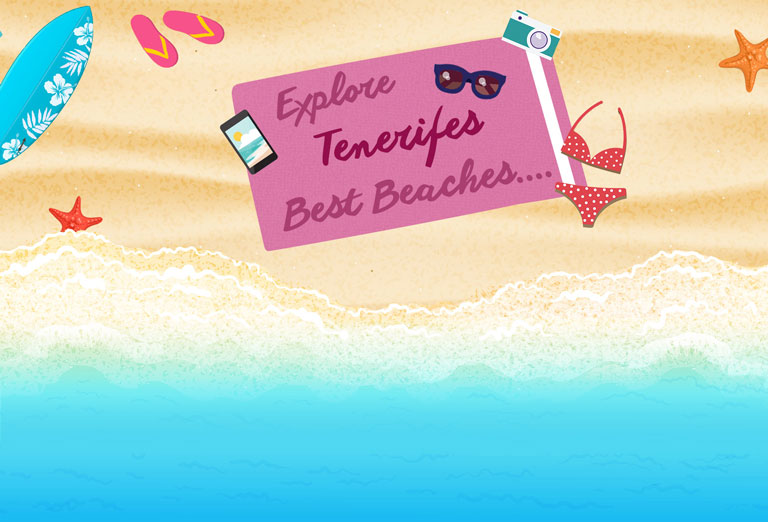 There's something irresistible about a place in Europe that stays sunny and warm all year round. Tenerife does just that - and it's only four and a half hours away. Here are the best beaches to set up camp.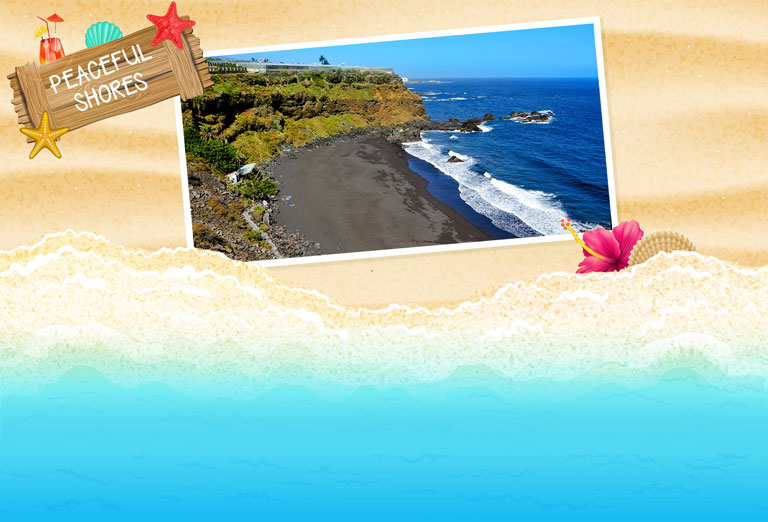 Playa Bollullo: to get away from it all
Known as one of Tenerife's greatest beaches, Playa Bollullo's black shores never fail to impress. The waves are huge, the water is clear and there's only one bar where you can order a heaping plate of seafood, washed down with an ice-cold beer. A rare opportunity for crowd-free sunbathing.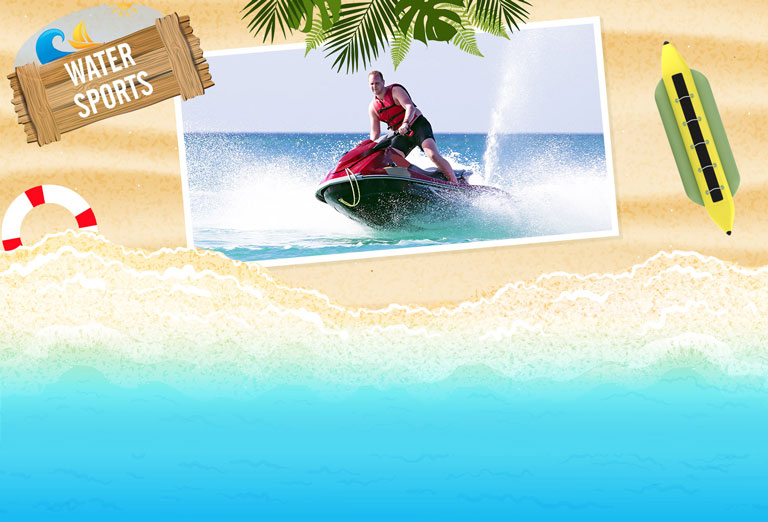 Playa de Las Vistas: to get active
It may be small but it packs a punch. Jet skis, water bikes and banana boats roar to life on the waves and a bustling beachside bar serves tempting mojitos. Getting too hot? Head into the water. It's shallow enough that you can wade across into neighbouring Playa de las Americas.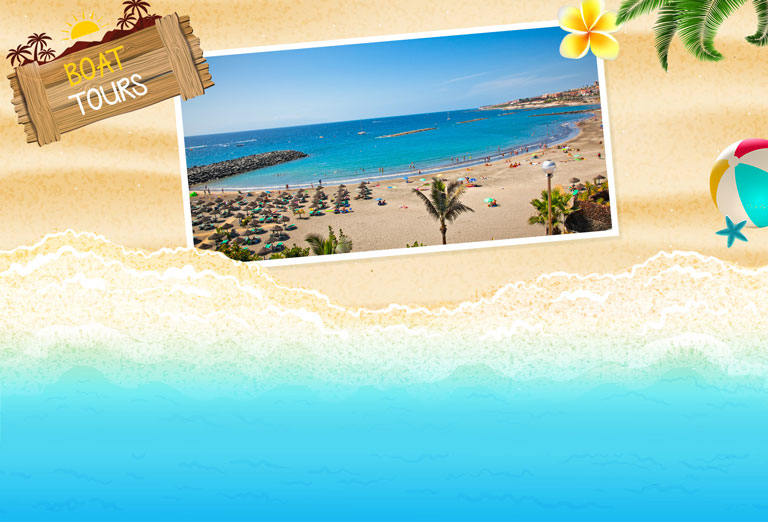 Playa de las Americas: to head out on a boat trip
Party goers flock to Playa de las Americas, Tenerife's most famous beach on the south coast. There are plenty of boat excursions - languish on a pirate ship or cruise on a catamaran, head out on a dolphin or whale-watching trip or reach new depths on a submarine safari.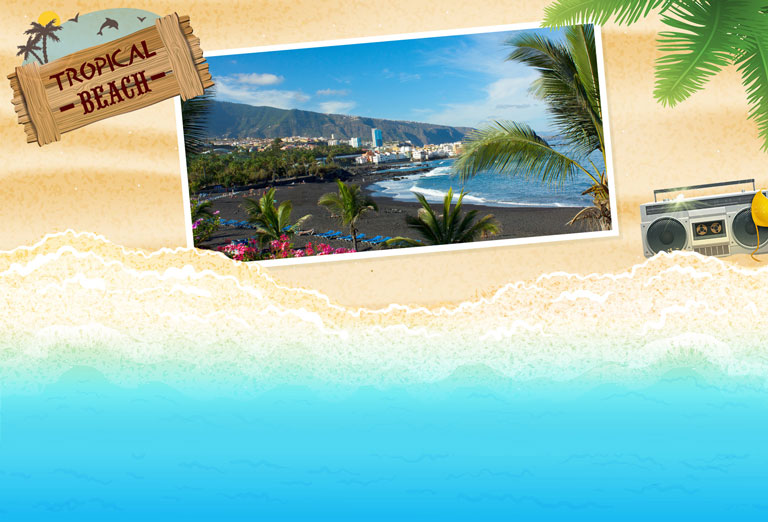 Playa Jardin: for the view
Cesar Manrique created a tropical paradise in Puerto de la Cruz. Palm trees sway, brightly coloured plants and flowers stand in contrast to the dark, black sands and the trickling sound of waterfalls serve as the soundtrack to your day. And let's not forget the views of Mount Teide.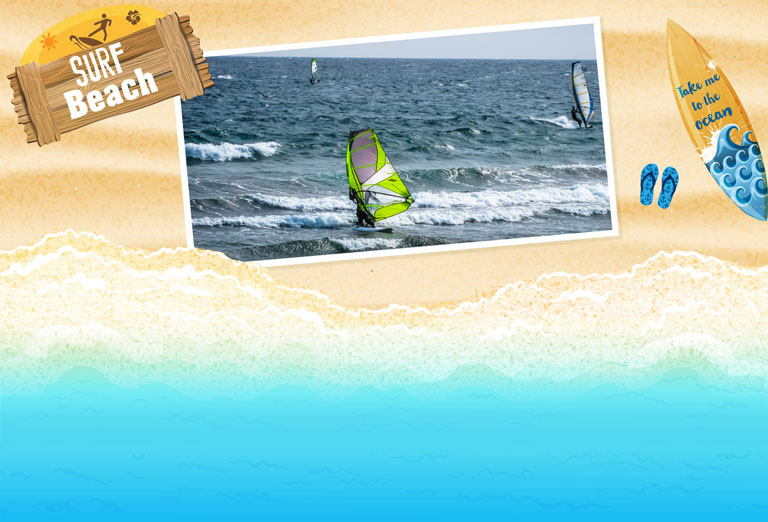 El Medano: for windsurfing & surfing
Head to the south coast of Tenerife to El Medano if you're not one to idle away time sunbathing on the beach. This Blue Flag beach attracts plenty of surfers but also windsurfers. The World Kite Surfing Championship competition takes place here every year!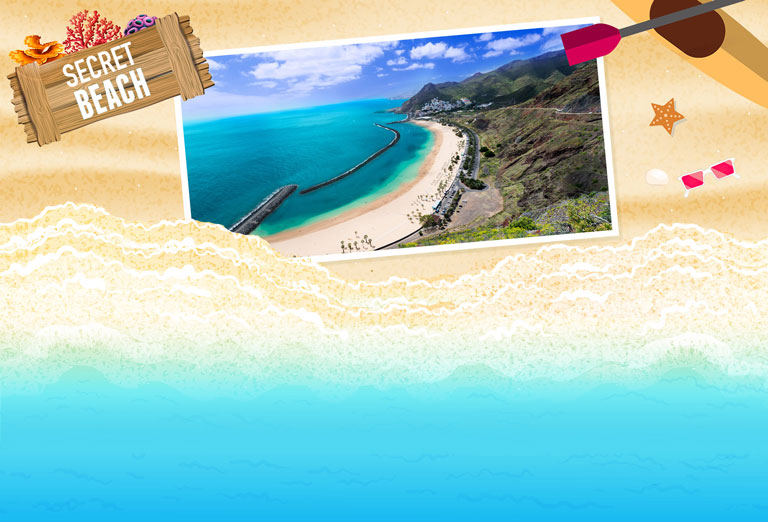 Playa de las Teresitas: the locals' secret
Don't overlook Tenerife's northeast coast, because there lies one of Tenerife's most idyllic coves below the Anaga mountains. There you'll find Playa de las Teresitas with fine yellow sand, imported from the nearby Sahara, and warm, shallow waters where fish flit around the artificial reef.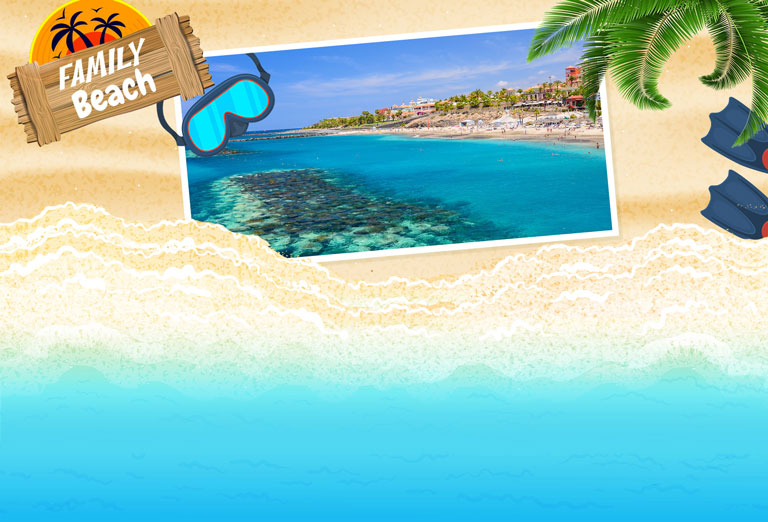 Playa del Duque: for families
Formerly a black-sand beach, white sand was placed on top from the actual sea bed. Now Playa del Duque shores are as deep as they are wide but it's the breakwater that is one of its greatest selling points - that calm, sky-blue sea is ideal for kids to swim in.
Tenerife is part of the Canary Islands, which lie just off the coast of North Africa. The islands are great for winter sun, summer sun and any type of sun in between, thanks to their year-round spring-like climate. Tenerife holidays in 2018/2019 can always be about nothing more than lounging on the beach, cocktail in hand at a luxurious all inclusive resort, if that's your thing. Like to be out and about? Tenerife has the best nightlife in the Canary Islands, plus some magnificent scenery if you head inland. The resorts offer a fab mix of family friendly fun, watersports and nightlife from the relaxing to the more raucous - and there are plenty of last minute holidays to Tenerife here as well.
Euro
Spanish
approx. 5 hours
GMT +0
Fab holidays for:
Beach holidays, Winter sunseekers, Buzzing nightlife
Airports:
Tenerife North and South airport
Did you know?
Despite the fact tourists flock to Tenerife's warmer climes come winter, it actually does snow on Mount Teide. While we sunbathe, locals are making snowmen.
Other Destinations in Spain
Other Nearby Destinations
You Might Also Be Interested In
Tenerife Weekend Breaks
A weekend in Tenerife is a great way to break up a week of work in England - guaranteed sunshine will perk up anything!
First order of business? Pick a hotel that's right near a beach - there's no point in wasting any time when you only have a weekend. Then, decide whether you want to go further afield from the beaches. If you want to explore the island and not waste time with public transport, you're going to need to rent a car.
If you can't imagine hiring out a car, buy a Bono card so you can fit in as many day trips as you want over the next couple of days. With 50% discount on buses and trams, and only one card needed between you, you can get around a lot easier (and cheaper!). Not to be left out, the free Tourist Train in Costa Adeje Santa Cruz will take you around the main highlights of the area - you can't turn down a hassle-free opportunity like that.
If you're looking to fit in a visit to Siam Water Park (in our opinion, Tenerife weekend breaks aren't complete without it) there's a free bus the park operates from south Tenerife. Similarly, Loro Parque zoo has a free train that runs every 20 minutes from Puerto de la Cruz.
If you plan your weekend in Tenerife over the summer months, there are plenty of lively fiestas to experience. These carnivals are free to attend to everyone and will liven up your relaxed days on the beach.
Top 5 Day Trips in Tenerife
Top
5
Tenerife isn't just beaches and bars - it's filled with stunning parks and wildlife to see!
Teide National Park

As one of Spain's most popular national parks, this is a must-see. Teide National Park's pine forests and bizarre lunar landscapes provide endless photo opportunities. Take the cable car ride for incredible views of the surrounding islands.

Siam Park

Siam Park's scream-inducing water rides and slides have made it a favourite with tourists and locals alike. Check out its gigantic wave pool complete with a sandy beach.

Boat excursion

Float on the waters between Tenerife and La Gomera and you're almost guaranteed to see pilot whales and bottlenose dolphins swimming along. You'll never want to go back on dry land!

Loro Parque

Amongst the 8,000 palm trees and exotic jungle of Loro Parque are parrots, killer whales, sharks, and penguins, to name a few. A zoo to end all zoos, animal lovers - head this way.

Anaga Mountains

With hamlets on the sides of steep ravines and stunning drago tree forests, the Anaga Mountains are as far off the beaten track as you can get. With plenty of beautiful natural landscapes, you won't miss the crowds at all.
Where to stay in Tenerife
As Tenerife has been a popular holiday spot with us Brits for decades, there are plenty of choices when it comes to finding the best Tenerife hotel or apartment for you. For a lively holiday try Playa de Las Americas, or if you want a resort with plenty to do but a quieter vibe, then Los Cristianos, Garachico or Costa Adeje should suit.
There are plenty more resorts lining Tenerife's south coast including villages at the foot of the towering Los Gigantes cliffs. Also on the island's south coast is Costa del Silencio, one of Tenerife's first purpose-built resorts, and one of its quietest. Buenavista, in the north-west corner of the island, is secluded and stunning - a great choice if you're looking for peace and quiet! El Medano, on the island's south-east coast is kite- and wind-surfing central! Granadilla is close to Tenerife South Airport, and lush with history, while Santa Ursula is a great base for hiking holidays. If you're not bothered about the beaches, but want a cheap holiday exploring Tenerife, then look for a hotel on the edge of a resort to save money and get a hire car to travel around and explore - the picturesque north of the island has plenty of history to explore, and you can't miss imposing Mount Teide in the heart of the island.
What to do in Tenerife
Much of inland Tenerife is protected natural parks, which gives you an idea of how pretty it is. A visit to Mount Teide volcano is a must if you're after seeing something other than the beach or the bar. Loro Parque and Siam Park are great for family orientated days out, and nature fans won't want to miss out on spotting whales and dolphins off the coast.
Tenerife for Families
Tenerife has so much for families to do and see, that it's almost as though it was created purely for families! We've even heard whispers that it's Europe's most family friendly island. And the best part? It only takes around four hours to fly there from the UK - you won't have to worry about jetlag or the boredom of a long-haul flight! Though Playa de las Americas is a hugely popular party district, step away from this area and you won't be disappointed. Costa Adejes is a great place to start.
Like all good family escapes, it has a sprinkling of fantastic waterparks, a coastline of beautiful beaches, and year-round sunshine. On Tenerife it's not hard to track down British food, so even your fussiest kids will be delighted with the culinary options at their fingertips! Jump on a boat for a whale-spotting adventure, or if you want to guarantee an animal sighting, the dolphins, gorillas and penguins of Loro Parque Zoo are sure to delight. You can even explore the underwater world without getting wet on board a yellow submarine with Submarine Safaris!
Tenerife for Couples
It might not be particularly surprising that a warm, sunny island, encircled with beautiful beaches is conducive to a romantic couple's holiday. Tenerife offers all this, and more. There's a great selection of adults-only hotels, and outside of the major centres it's not too hard to avoid the families and partiers! The island's prettiest beaches - those with picturesque white sand - are found on the south coast of the island. In this area you'll also find great restaurants plating up both local and international cuisine, and plenty of bars for a post-beach, pre-dinner drink or two.
Drive from Anaga to Santa Cruz for a scenic day out, or catch a cable car up Mount Teide, the highest mountain on Spanish territory, for an otherworldly landscape and incredible views.
When to Visit Tenerife
Tenerife is known as the 'island of eternal spring', thanks to weather that's not too hot, and not too cold, year-round. Whether it's for a spot of winter sun, you're looking for a nearby summer holiday, or want to top up your summer tan during autumn, you'll find good weather. November to March is considered the island's high season, so visit outside of this time to avoid paying peak prices. While the summer days are steamy, there's often a lovely breeze to keep your cool. Or, you can just throw caution to the wind and book late deals to Tenerife at any time of the year!