From fluffy pillows and mattresses you just sink into to rainfall showers and the ever-tempting room service number, there's a reason why people love hotels so much! They don't always cause a stir for their incredible infinity pools or expansive spas, however. Sometimes it's their wacky themes that take centre stage, and for good reason.
Propeller Island City Lodge, Berlin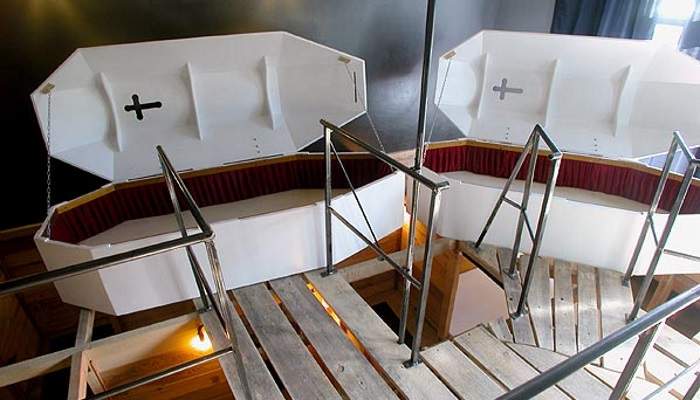 No one's sure what the overall theme for Berlin's Propeller Island City Lodge is but we're pretty sure sleeping is not a priority. Choose from prison cells or even a coffin suite to lay your head down at this establishment! And those aren't necessarily the weirdest.
One room's walls are covered entirely in misshapen mirrors, another has padded walls eerily reminiscent of places usually reserved for people in straitjackets. Stay in a room with a sloped floor, designed to make you feel as though you're flying or, if you just hate sharing a bad, lower an illuminated barrier by pulley to split your double bed in half.
If you really want to feel like Alice in Wonderland, book the topsy turvy room to sleep in boxes in the floor while everything else is suspended upside down from the ceiling! One thing's for certain – it'll definitely make your holiday to Berlin memorable.
Faralda Crane Hotel, Amsterdam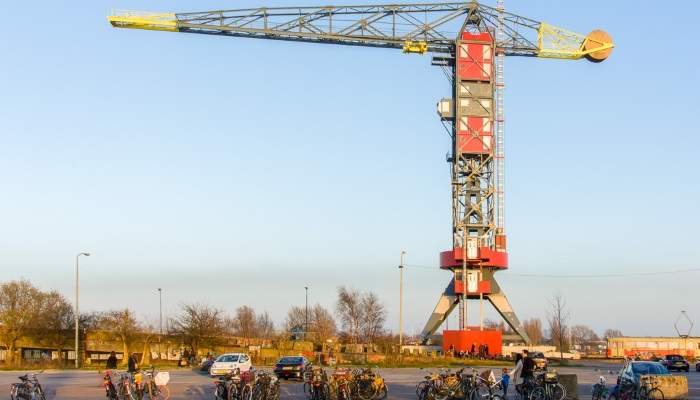 Berlin isn't the only European capital to push the boat out. In fact, Amsterdam is pushing the boundaries of gravity with their Faralda Crane Hotel. The theme? Daredevil. Normal onlookers saw an industrial crane, these guys saw a hotel opportunity.
Located in the former FDSM shipyard at the edge of a river, there are three suites available in the crane's old machine room – at 50 metres in the air! Don't worry, you don't have to take the stairs on this Amsterdam holiday – elevators will take you up and the incredible views (and the outdoor Jacuzzi!) over the waterfront will keep you there. Although there is the option to bungee jump off the top, elevators be damned.
V8 Hotel, Germany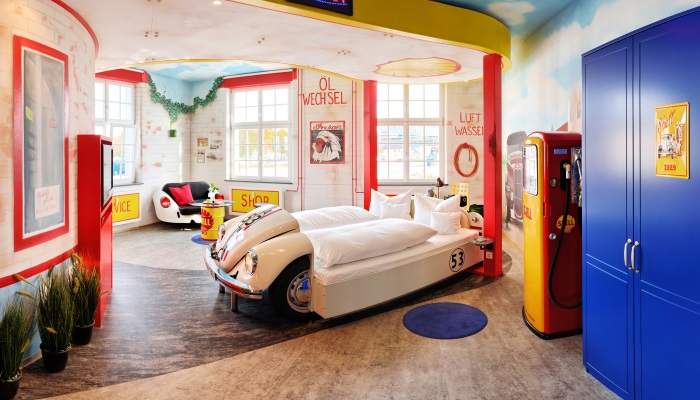 Forget car museums – Germany's hotels are where it's at! Fly to Stuttgart's V8 Hotel if you love your car so much you want to sleep in it – because that's exactly what you'll do here. This four-star establishment has rooms with beds designed to look like cars, from classic and vintage, to sporty and modern.
Ten suites have creatively encompassed car themes – stay in a cinema drive-in, workshop or even a car wash! The hotel's most popular Tankstelle Room is inspired by a petrol station. Sleep beneath a massive pump canopy with the Shell logo hanging above your head. You even have a genuine Shell pump station alongside your impossibly comfy car bed.
The Shire of Montana in Trout Creek, Montana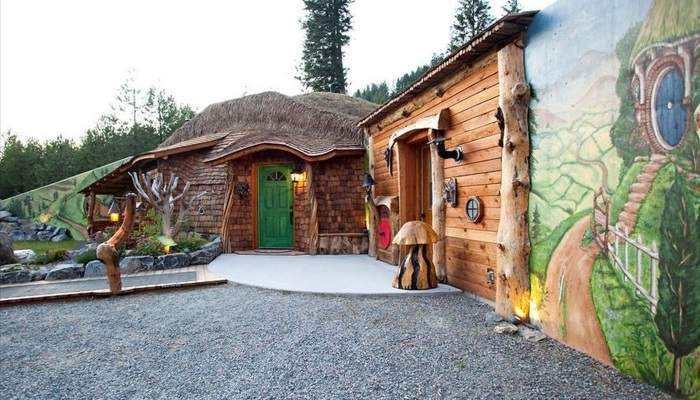 Travel to Middle Earth or, in other words, the hidden depths of rural Montana – a 1,000-square-foot Hobbit house awaits you. From right out of the film, the Hobbit House sits as a wooden splendour with a charming thatched roof. A gold ring hangs from the rafters, there's a pointy wizard hat that belongs to Gandalf and both Bilbo Baggins and Frodo's miniature houses sit either side of the hotel.
With an elf village and a troll house fashioned from a 700-year-old sequoia tree, you'd be forgiven for thinking you had stepped onto the Lord of the Rings set in New Zealand. It even has a pair of comfy slippers waiting for you, although not the normal hotel kind – they resemble hairy Hobbit feet.
Poseidon Undersea Resort – 2,000 Leagues Under the Sea, Fiji
Find out if it really is better down where it's wetter at the Poseidon Undersea Resort. This spacious, one-of-a kind hotel sits over a watery 225 acres and is surrounded by a pristine 5,000-acre lagoon – not your average location!
Suites are 70% transparent so you have an unhindered view of the creature-filled ocean, not to mention your private coral garden. You even have your own push button fish feeders while on holiday in Fiji! While it hasn't officially opened yet, we know it's going to incur the waiting list of the century.
Kumbuk River Resort, Sri Lanka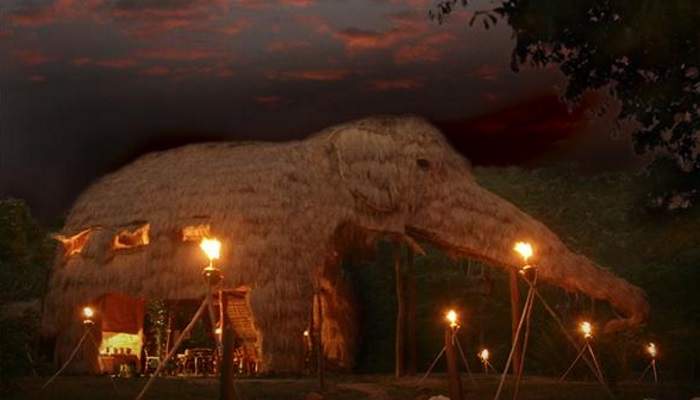 This eco-friendly oasis in south-east Sri Lanka set tongues wagging with its massive, two-story, elephant-shaped villa. Kumbuk River Resort is set alongside the banks of a rushing river and is on the edge of Sri Lanka's premier wildlife sanctuary.
Sleep inside the belly of the elephant-shaped villa or choose from the other two chalets and watch as nature goes about its day – you're right in the thick of the forest. You'll leave the buzz and pollution of a big city behind on this holiday to Sri Lanka and will wonder if you ever need to go back to reality.
Giraffe Manor, Nairobi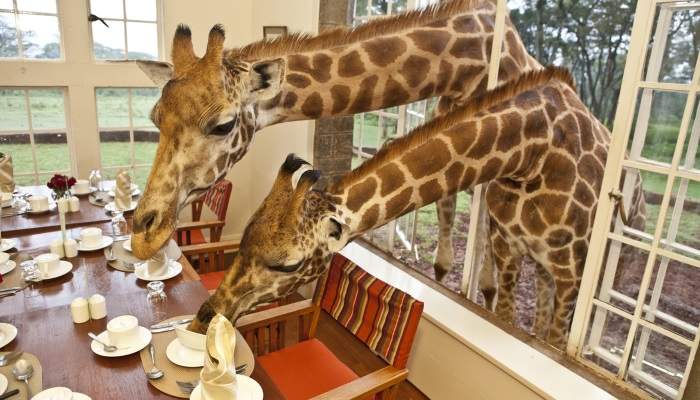 This boutique hotel boasts grand art deco features and four-poster beds but that isn't its main attraction. It's the Giraffe Manor's adorable resident giraffes that stick their head in for a kiss that steal the show! Set over 12 acres of land within 140 acres of indigenous forest, you'll feel like you live on the set of Out of Africa. Rothschild giraffes love scavenging for treats by sticking their head into the kitchen at breakfast time – mornings will never be the same again. Your Africa holiday just got more exciting.
The Gamirasu Cave Hotel, Turkey
You may be sleeping in cave but there's no scrimping on luxury at Gamirasu Cave Hotel. Once a Byzantine monastic retreat, this cave house blends into the natural fairy chimney surroundings of Cappadocia. Rooms are built into volcanic rock with vaulted ceilings and a stunning rose garden and pool make the surroundings even more magical. And if that hasn't sold you on flying to Turkey and sleeping in a cave, the hotel's TripAdvisor 2014 Certificate of Excellence should.
Dog Bark Park Inn in Idaho, USA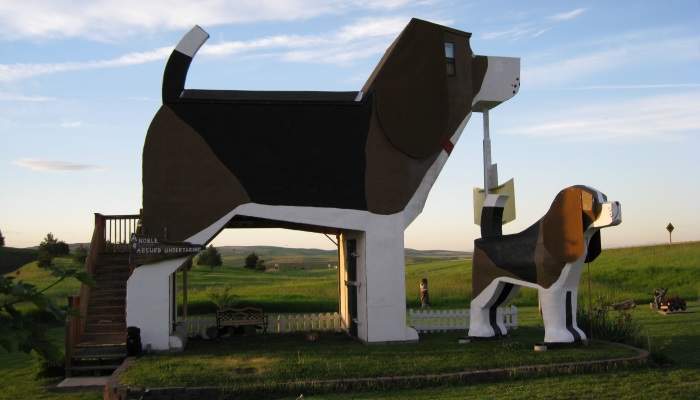 This is no ordinary B&B. If you've ever wanted to stay in a 30-foot-high beagle, here's your chance – and he's been nicknamed 'Sweet Willy'. Allegedly the world's biggest beagle, the Dog Bark Park Inn's large dog offers two rooms, one in its head and one in the body. Once inside you'll sense a theme. From canine-inspired carvings to dog-shaped biscuits left on your pillow, it's bound to be an unusual holiday in the US.
Seven Hotel in Paris, France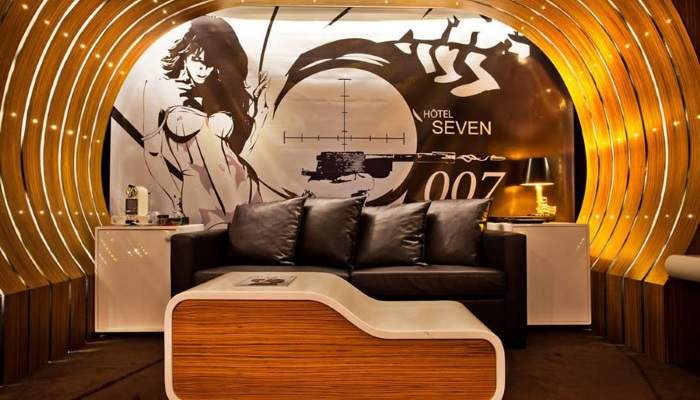 Live out your 007 fantasies at the luxurious Seven Hotel in Paris, France. It's everything you would expect (and want). With golden gun lamps, waterfall showers, and walls adorned with film backdrops, you won't be surprised to find a mirrored ceiling above the futuristic bed. With a 62-inch TV which can play all of the Bond films, a Turkish bath, and even a golden toilet, you may not want to leave your 007 bubble. Make a martini and don your best suit and say it with us – it's Bond, James Bond.
Barbie Suite at Hilton Buenos Aires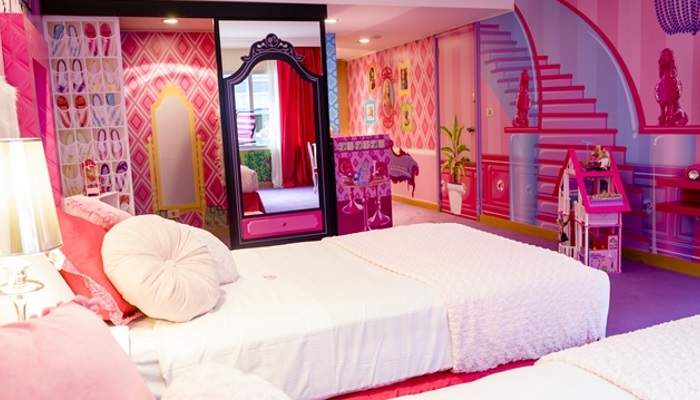 It's plastic, it's so fantastic – it's the Barbie suite at an unsuspecting hotel destination. Live out childhood memories in a room that possesses more shades of pink than you've ever seen. The Hilton Buenos Aires' Barbie suite is based on Barbie's Dreamhouse and is a room filled with Barbie dolls, merchandise, and even a pink catwalk. With Barbie-inspired toiletries and a 32-inch TV playing non-stop Barbie films, you need to be quite a big fan of the famous plastic doll before setting foot through the door on your Buenos Aires break.
Ice Hotel, Sweden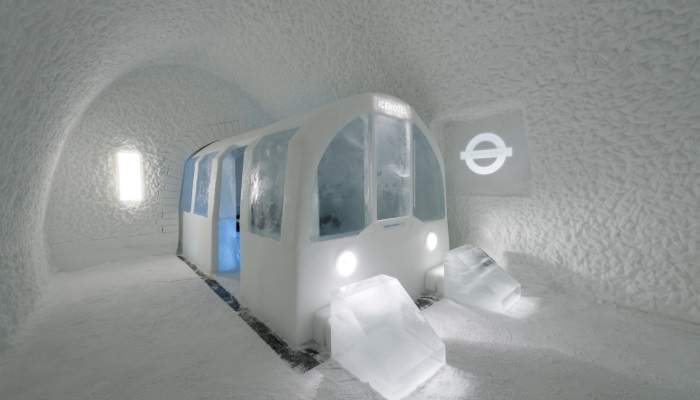 You may not have considered staying in an ice hotel on your holiday in Sweden, but you should. Every year the Ice Hotel in Lapland, Sweden gathers artists from all over the world to sculpt this icy masterpiece into existence. In 2010, it resulted in the creation of a Tron: Legacy inspired suite, complete with an electric blue lighting scheme.
The faces of the suites creatively morph into something magical at the hands of a variety of artists. Last year's ranged from walls carved with faces and flowers to origami creations and a London tube underground suite, complete with an actual train! Grab one of those warm furs and get cosy – you're going to want to stay a while.
Le Monde Hotel in Edinburgh, Scotland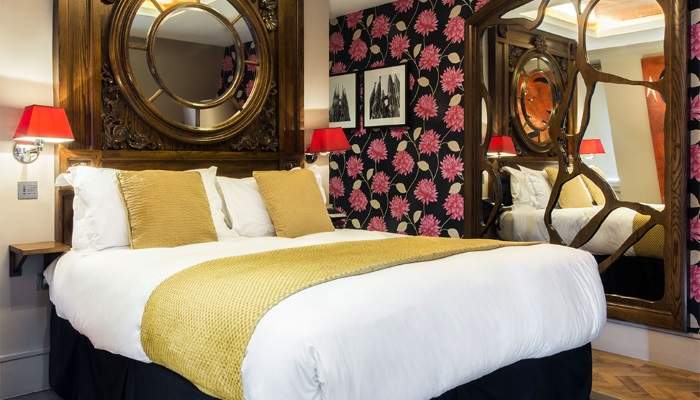 If you're looking to travel around the world but just don't have the time (or money) book a slot at the Le Monde Hotel on a trip to Edinburgh. You'll be able to travel around the world without leaving your hotel. Every room is designed to make you feel as though you're in a specific city – from Havana and Moscow to Beijing and even Atlantis, you'll feel like an intrepid explorer without the dreaded jetlag.