Where's Hot Right Now?
Winter has a habit of creeping up on you when you least expect it. It lulls you into a false sense of security with balmy Octobers, Novembers and Decembers before a cold chill stealthily sets in post Christmas. This year, we won't be caught out. Instead, we're going to be jetting off to warmer climes and forgetting about the cold altogether. We've rounded up some of the dreamiest warm destinations we could find.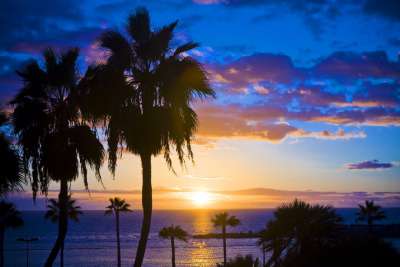 1

Gran Canaria

Spain's Canary Islands provide a welcome respite for Brits craving sunshine each winter. Perched closer to Africa than Europe, they enjoy blue seas and warm temperatures long after the UK starts to shiver. The island of Gran Canaria is famed for its beaches, from the black volcanic beaches of the east to the rolling sands of Maspalomas. Winter is a great time to explore the island's interior as temperatures are cooler making hiking all the more enjoyable. We recommend hiking into the crater of Caldera de Bandama, where panoramic views are afforded from the top.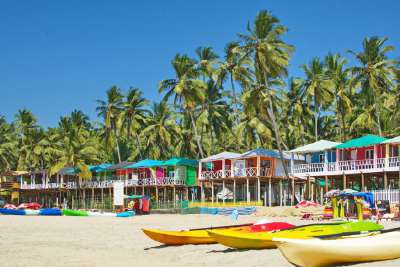 2

Goa

The weather in Goa at the moment is comfortably sitting at around 30°C, a temperature that us Brits can only dream of (even on the sunniest of summer days). While the flight is long, holidays in Goa are unlikely to break the bank as there are a plethora of great value hotels on offer. You could be dolphin spotting, browsing the hippy markets of Anjuna or simply relaxing with a good book beside a pool in no time at all!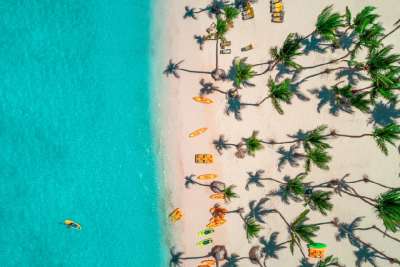 3

Dominican Republic

The Dominican Republic offers up scenes that often grace postcards and travel brochures. It's a Caribbean paradise with flour-soft white sands, rolling gently into turquoise waters as palm trees sway gently in the background. With average temperatures of around 30°C, you'll be able to shed all layers and dive right in. It is a destination where all inclusive resorts rule supreme, meaning that if you're looking for a week of total relaxation, it could just be the spot for you...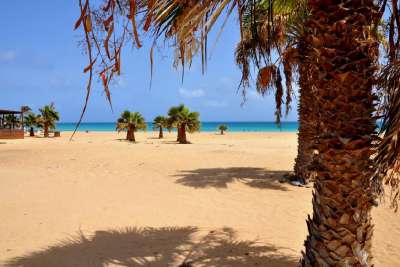 4

Cape Verde

The African archipelago of Cape Verde offers up a wallet-friendly chance to soak up some sun in the early months of the year. Temperatures currently sit in the mid 20°Cs making beachside strolls in just a t-shirt incredibly appealing. There are an array of islands to choose from but most of the resorts sit on Sal and Boa Vista, both of which are famed for their vast swathes of golden sands. Elsewhere, Santiago is home to the capital of Praia and São Vicente is renowned for its colonial architecture and volcanic peak.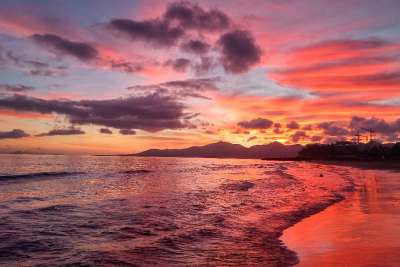 5

Lanzarote

We know we've already featured a Canary Island, but we just couldn't run a winter sun blog without mentioning Lanzarote. This is an island where cooler winter temperatures really allow visitors to explore (away from the beating sun of summer months). It's a destination most famed for its volcanic landscape. You could spend days hiking the other-worldly terrain of the Timanfaya National Park, enjoy an underground cocktail in a former lava tunnel at the hip Jameos Del Agua, or visit a cactus garden in Guatiza. That's all without mentioning the famous beaches, where the deep blue sea laps against rugged shores.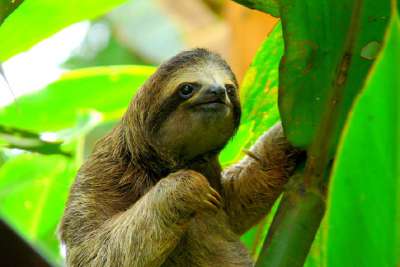 6

Costa Rica

Swap the humdrum of the Central Line, Manchester's trams or really any commute for toucan watching and sloth spotting on a winter holiday to Costa Rica. The winter months are actually the best time to visit this Central American country, as this is when the dry season occurs meaning that you can sunbathe without fear of a tropical downpour. This is a country that will beckon you to travel across it, from the vibrant capital of San José, to the volcanic pools of Arenal and sweeping beaches of Guanacaste, and all of the rainforest beyond. It's a destination where a holiday can also mean an adventure.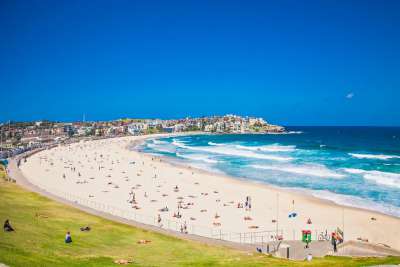 7

Sydney

With a weather system that's almost the complete inverse of ours, Sydney currently basks in the golden glow of summer. While it is perhaps Australia's most famous city, and has all of the attractions to boot (who doesn't want to visit the Sydney Opera House?), it's also home to a large number of gorgeous beaches. Why not do the famed walk from Bondi to Coogee, taking in golden sands and clear waters as you go, or take the ferry out to Manly, keeping your eyes peeled for frolicking dolphins and friendly whales below.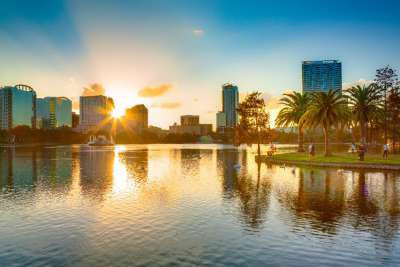 8

Orlando

Where better to renounce the greyness of winter than in Orlando? This is a city where you'll be forced to unleash your inner child. There are theme parks aplenty, from the wonder of Walt Disney World to the film-themed rides of Universal Studios. Whether you want to get your heart racing, or are looking for something a little more sedate - you're sure to find a ride to suit you! If you get all theme parked out, head to the Lake Eola Park for a stroll, or spend an afternoon reading a book in its Chinese pagoda.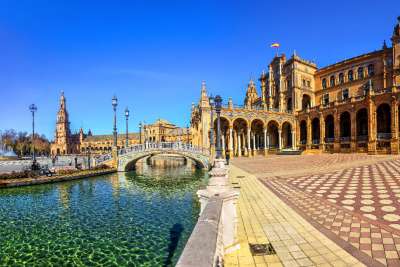 9

Seville

Seville might not be the hottest of the destinations on this list, but this gorgeous city on the southernmost cusp of Spain still enjoys clear blue skies in winter months. Temperatures are currently sitting in the late teens, a temperature at which big winter coats can be cast aside and you can explore the city with ease. Seville is brimming with things to do but on a weekend here, we recommend that you always factor in a trip to the Alcázar of Seville, a royal palace with intricate tile work and expansive manicured gardens. Once you've had your cultural fix, why not treat yourself to a crisp glass of wine at one of the city's many rooftop bars.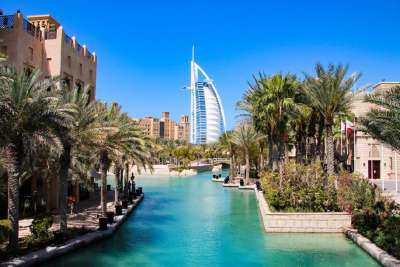 10

Dubai

For the ultimate in winter sun indulgence, head to Dubai where the lifestyle is as lavish as their shopping centres are impressive. With temperatures in the late 20°Cs, the chilly British climes will be nothing but a distant memory. To soak up the true Dubai experience, treat yourself to a luxurious hotel stay, eat endless food at champagne brunches and make sure to get lots of snaps at the city's most famous poolsides. You're sure to be the envy of all of your friends!
Most Popular Top 10s