Our list of the best amusement parks and waterparks in Spain has more twists, more turns, and more loop holes than an Eastenders Christmas special. This list has everything from treetop adventures and a slide that jets you past a tank of sharks, to drive-through safari parks and Europe's highest drop. Get out of the UK, and travel a short distance to a sunnier, greater array of amusement options.
Jungle Parc, Santa Ponsa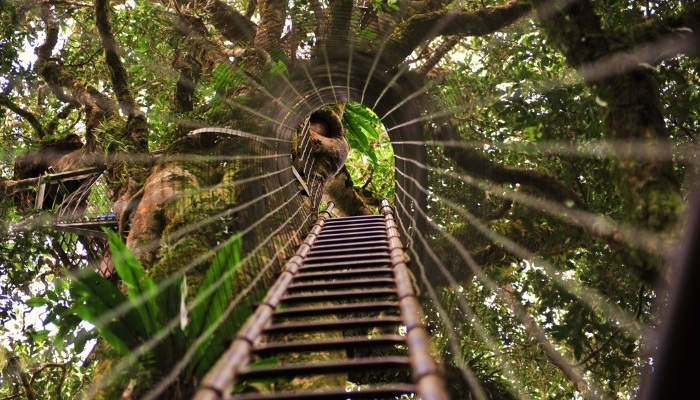 Image © thinboyfatter
Set within the shade of a nine-hectare pine forest and just 500 metres from the beach in Santa Ponsa, this treetop adventureland is the biggest of its kind in the Balearic Islands. There are a total of 123 platforms which are built into the trees, and you'll be swinging from branch to branch with ropes, zip wires, ladders and vines. At Jungle Parc, you're basically Tarzan, but with more health and safety regulations placed upon you – because swinging to your death may not be the outing you had in mind.
Aqualandia, Benidorm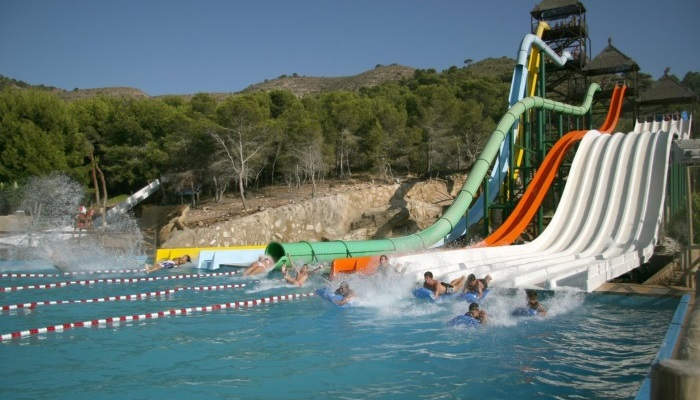 Image © Aqualandia Benidorm
This was Spain's first waterpark, and it's come a long way since its one-pool, one-slide beginnings. It seems this plot of land in Benidorm was meant to be a waterpark. The surrounding hills plunge and teem with green trees, and the grassy knolls around the pool are beautifully landscaped. At a waterpark, you should feel that you are outside as the sun beats down on your slide-soaked back, and you certainly have that experience here at Aqualandia. The water is constantly purified and recycled using the most advanced treatments out there, so you won't get any bandages floating around in this pool!
Siam Park, Adeje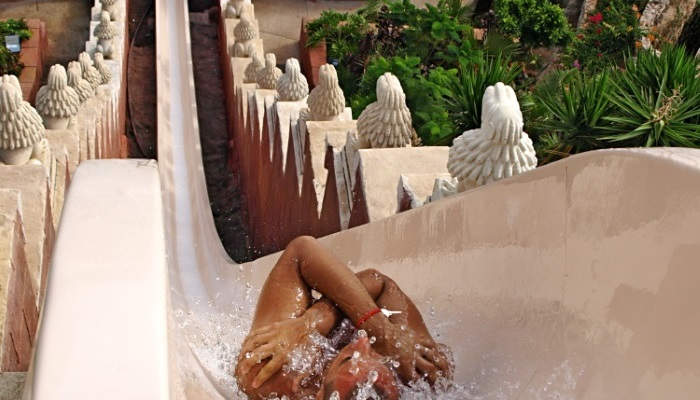 Image © Jack Montgomery
Recently named TripAdvisor's number one waterpark in the world, Siam Park has lots to choose from. From slides with totally vertical funnels which four people can experience at once, to a 28-metre tall slide that plummets you past an aquarium of sharks and rays – it's easy to see why it has such a high status. You don't even need to like slides to have a good day out here, or even know how to swim for that matter. Despite the adrenaline and the hullabaloo of screams coming from the Tower of Power, this park in Adeje comes with an environment that invites tranquillity. The park is themed around the golden hues and harmonious calm of Thailand, and this Spanish waterpark seems to play dress-up pretty well. On your way to the slides you'll saunter past Koi Carps swimming treacly beneath the wooden walkways, and have the chance to stop off at the Thai-themed floating market too.
Portaventura, Salou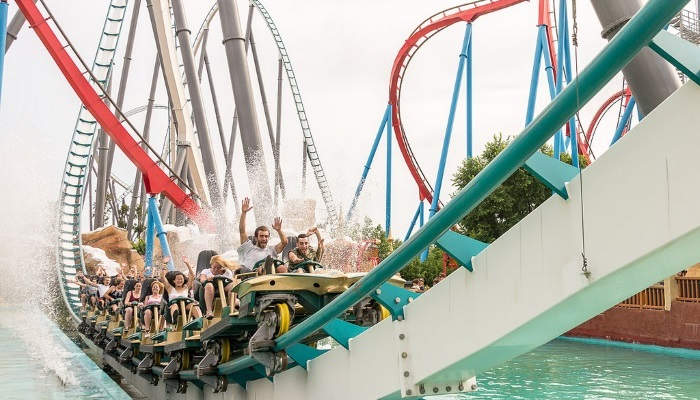 Image © Paul McMaho
This park could stand up alongside the big guys in Orlando, and still put up a pretty good fight. This is a world-class theme park in Salou that's just a two-hour flight from most UK airports. It boasts enough rides, heart-smashingly scary drops, and innovations to rival the world's best. When it comes to parks in Europe, Portaventura takes home all the superlatives. It has Europe's highest drop – the mightily intimidating hypercoaster, Shambhala – which pummels you down from a 256 ft drop. It has Europe's first Ferrari Land – which is soon to be opened this year. This will grant it a double-whammy of a ride – the Vertical Accelerator. It'll go from a dead stop to 150mph in five seconds, propelling you to heights of up to 367ft!
Terra Mitica, Benidorm

Image © SANTIVALLADOLID
Everything really is bigger in Benidorm – and that refers specifically to rides like the Tornado at Terra Mitica park, of course! The newest attraction at the park, the Tornado, takes the common park-swing and elevates it to extreme proportions. You'll be swinging eighty metres up from the crumbly Spanish soil, with legs dangling over views of the Benidorm skyline, sea, and rugged green-brown mountains. When your feet touch the ground and you come back for air, there's a whole host of rides that will have you mingling with the desert-like landscape around you. Rollercoasters like Titanide and Inferno undulate around the mountains and streams, and reach heights as tall as the tips.
Safari Aitana, Penaguila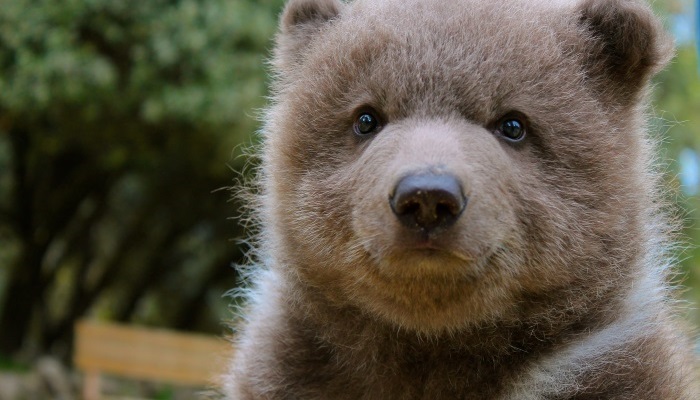 Image © Enrique Blasco
Unfortunately, a lot of animal conservation sites around the world are suspicious at best, with more concerned about cash income than animal welfare. However, this mini safari in Penaguila has been endorsed and associated with some of the leading, best and kindest names in conservation. Jane Goodall herself has been a visitor and happily associated her institution with it. The workers are said to care for the animals here – among which are giraffes, lions, tigers and bears – as though they were their own. They're even lovingly named after some of the world's great people – Shakira, the giraffe is an obvious example of course – and a hit with visitors. You can meet these cheeky sorts up close or through a typical safari-inspired drive through the grassy realms.
We've got some great comparison tools to help you decide where in Spain to visit!
Compare flights | holidays | hotels | car hire