I've never taken a nano-break before, but the idea of fitting a holiday into my weekend definitely appeals to me. So a few weekends ago we set our sights on Amsterdam and made a break for it.
Amsterdam is a great choice for a short trip as the flight from London takes just 45 minutes, giving us barely enough time to get comfortable before we landed on Dutch soil. We had a lot to fit into a short time, so we planned with military precision and it paid off. There wasn't a wasted moment, a bad choice of restaurant or any time to kill, just two days of solid fun.
Once we arrived it was all go, heading straight to our hotel to freshen up before setting out to explore our surroundings. Our hotel was sat on the corner of Kaizersgracht canal, just a few minutes walk from Anne Frank House, and from our room we had a great view straight out onto the water.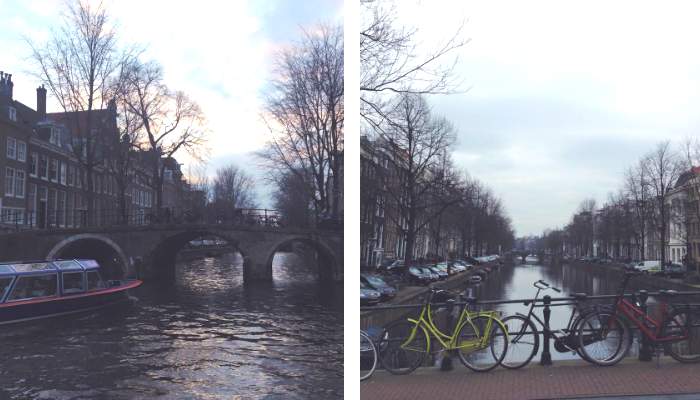 That evening we walked along the pretty canals until we got hungry, by which time it we were ready to call into Tomaz, a traditional Dutch restaurant we'd heard great things about. After a day of travelling we were desperate for generous portions of comfort food, which was exactly what we got. The signature dish here is designed to be shared family style; one pot of bacon and cheese mash, and another pot full to the brim of pork belly. It was delicious!
After such a large meal we decided it would be best to walk it off, but our laziness put a stop to that quite soon. Instead we checked out one of Amsterdam's more infamous attractions, popping into a treehouse-style coffeeshop we spotted down a small side street. Abraxas Cafe is a favourite in Amsterdam with tourists and locals, serving up cakes and coffees alongside other Dutch delights. They had the most delicious brownies, but it seemed that the more I ate the hungrier I got… After a few drinks we set off back home to catch up on our beauty sleep for the next packed day.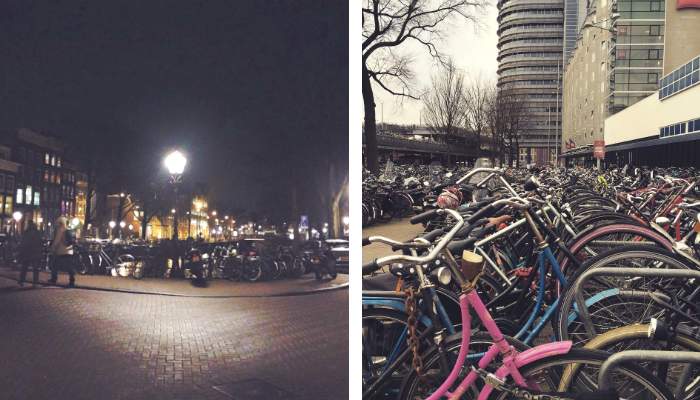 The next morning we sprung out of bed early and walked over to the Van Gogh Museum to soak in some culture. I was a little put off visiting because of horror stories I had heard about queues four hours long, but 40-minutes later we were inside in the warm. I'd recommend buying tickets prior to your visit, as the pre-booked queue was about half the size of ours. Tickets are €15 for adults which I thought was a little pricey, but it was worth it in the end.
Once inside we learnt that the museum was founded by Van Gogh's nephew, through a very touching display explaining how the museum came to be. Van Gogh was supported through his artistic life by his brother Theo who died just a few months after Vincent's death. Subsequently Van Gogh's entire collection was left in the hands of his sister-in-law Johanna, who dedicated her life to making his work known. Her son Vincent Willem van Gogh played an integral part in the conception of the Van Gogh Museum. The museum now houses an impressive body of his work, including the famous Sunflowers.
All of that art and culture made us pretty hungry, so having heard excellent things about Noordermarkt we set out on the 30-minute walk towards delicious food and drink. Noordermarkt is an open-air food, drinks and crafts market held each Saturday in the north of the city, sitting in a pretty square surrounded by incredible looking restaurants that serve up the delicious cheese, meats and wine on sale from local vendors.
Stalls ranged from fresh oysters, to artisan cheeses and wooden crafts, but we decided to sit indoors at one of the welcoming restaurants in the square. A fellow dealchecker had recommended I visit Winkel 43 for "the best apple pie in the world", so I couldn't resist popping in. The queue that poked out of the door suggested we wouldn't regret it, and once inside we jumped on two seats by the bar. As well as serving up huge slices of traditional Dutch apple pie, Winkel 43 also offer delicious sandwiches full of market specialities such as raw Dutch sausage and peppered cheeses. We ordered a Dutch sausage and cheese sandwich, a slice of apple pie and a hot chocolate each. The apple pie definitely was the best I've ever eaten, doused in whipped cream and cinnamon, and the sandwich was unsurprisingly incredible too.
For the rest of the day we wandered around the city, taking in the sights. At the central train station we saw a bicycle parking lot that was literally piled high with bikes, like a metal graveyard; it was a jaw-dropping sight. A little further down we came across another Amsterdam staple, the famous Sex Museum. Displaying all sorts from erotic art to cheeky seaside postcard-style posters, it is worth the trip just for laughs. From silly animatronics to 'ancient relics' (possibly moulded from plaster of Paris in the store room), the Museum is a bit of a tourist trap, but a hilarious one nonetheless. It made us laugh and it was certainly an experience.
Our weekend in Amsterdam fell on Valentine's Day and the romantic setting of the Sex Museum hadn't filled the love quota for the day, so for our obligatory romantic meal by candlelight we made a reservation at Johannes. Voted one of the best restaurants in Amsterdam, we had high hopes for this pretty little spot by the canal. That evening Johannes was offering a secret five-course meal comprised of seasonal local cuisine, so feeling adventurous we accepted the mystery menu. Every course was amazing, and it was a definite high note to end our short trip on.
Amsterdam is a great city with so much on offer to visitors. In our short time there we felt as though we had really made the most of our time and seen something well worth seeing. We left satisfied with our short visit, yet excited to return.